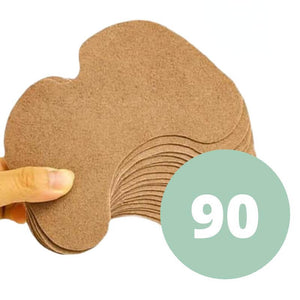 90 pcs Herbal Knee Pain Relief Patches (sp)
$179.95
Regular price
Sale price
Payment methods

Get Instant relief from joint pain, leg numbness, muscle pain, shoulder pain and more!
The intense heat of the soothing patches provides quick relief from pain. They are excellent for relieving excruciating knee pain as well as arthritis and joint pain.
These pleasant and effective pain patches fight your pain directly at the source. Whether it's in your knees, back, shoulders, neck or legs.
nooro™ Knee Pain Relief Patches can relieve pain for hours. Thanks to the rounded corners and flexible material, the application is easy and the patches adapt to your movements.
Contains plant extracts, and purely natural herbal ingredients without side effects. The self-heating patches only need to be applied to the problem area.
The heat helps stretch tissues, relax muscles, promote flexibility and reduce stiffness.
FEATURES

☑️ Pain relief - It heats itself, penetrates deep into the muscles and relieves pain and tension.

☑️ Healing - The heat helps relax muscles, promotes flexibility and reduces stiffness.
☑️ Ergonomic Design - The shape of the patch has been ergonomically designed so that it fits perfectly to your problem area without falling off.

☑️ Safe - A natural and safer alternative to pain relief with medication or pills.

☑️ Clean and Trace Free - Can be worn under clothing without leaving greasy residue or stains.

SPECIFICATIONS
Size: ONE SIZE
Color: Beige
Durability: 24 months
Don't miss out! This promotional offer ends soon.
We've got your back: We work hard to bring you the best, most popular and highest quality products on the market. We do this with a risk-free 60-day, 100% MONEY-BACK GUARANTEE. We ship all orders with tracking numbers and keep you updated with the latest news while your order is on its way to you.
OUR TRUSTED PARTNER