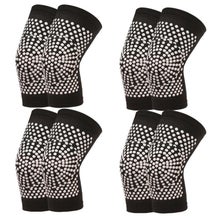 4 Pairs nooro™ Titan Flex Omni-Thermal Knee Sleeves (Extra $40 OFF) (kbf)
$99.80
Regular price
$399.95
Sale price
Payment methods

Finally, People With Rheumatoid Arthritis Are Treating Their Knee Pains And Swellings, On Their Own!

When it comes to treating arthritis without drugs, exercise is what most rheumatologists recommend. This is why there is a whole thing in medicinal science called physical therapy.

But, exercising when you have arthritis? That is like swinging a double-edged sword when you don't even know how to use a kitchen knife without chopping your fingers off..
In simple words, doing regular exercise is all fine and dandy, and it can definitely reduce severe arthritis pains and swellings… but when you have arthritis, exercising (even if you're doing everything right) can damage your joints, causing you more pain and suffering.
"There must be a way to take benefit of exercise without breaking my legs, right?"
Thanks to people like you, Arthritis Relief Knee Braces is one thing that can make it happen. And here are five reasons why…..
1. Instant Pain Killer
Arthritis Relief Knee Braces compress your knee joints and warm up your joint fluids, which reduces swelling and makes the pain go away in 5 minutes or less. Three-dimensional structure of woven, High-precision 3D cutting technology of knitting… designed specifically for people with severe knee pains.
All credit goes to our team, who chose quality materials, air knit fabric that can instantly absorb and evaporate large amounts of water, and circular breathing thicker than other knee protectors to provide extra reinforcement without sacrificing comfort.
Arthritis Relief Knee Braces is able to heat and compress your joints super fast. Normal knee sleeves take 30 minutes or more to do exactly that.
2. Mobility Booster
Arthritis Relief Knee Braces come with stretchable material that provides more support to your knee joints and forces your hamstring muscles to do all the lifting (these muscles can handle 40X more load than your joints). This helps you to do more than what you thought you were capable of.
3. Protector of Joints
Arthritis Relief Knee Braces compress and warm your joint fluids at the same time, you get to slow down the damage arthritis does to your knees. Just like you warm up engine oil before taking any fancy car for a ride; compressing and warming up your joints lubricates them with synovial fluid; which, you guessed it, keeps wear and tear to a bare minimum.
4. Enemy of Arthritis
Arthritis is basically a medical term to describe severe swelling of the synovium membrane (which is a soft cushion between your joints that allow them to move without grinding each other). When you compress and warm up your knees, the swelling goes away, the synovium membrane gets back to its normal shape, and your joints starts slipping like normal too.
5. Ultra Durable Braces
Arthritis Relief Knee Braces wouldn't be Arthritis Relief if they were not durable. Our team used rugged materials to bring these sleeves to doers like you, so they can last for years to come. And guess what? And aside from being long-lasting… These sleeves look super dope too.
Combine all of that and you get to enjoy your life to your fullest without crippling yourself to a wheelchair. So, if you're a badass doer like we think you are… order your pair of Arthritis Relief Knee Braces today!
We've got your back: We work hard to bring you the best, most popular and highest quality products on the market. We do this with a risk-free 60-day, 100% MONEY-BACK GUARANTEE. We ship all orders with tracking numbers and keep you updated with the latest news while your order is on its way to you.
OUR TRUSTED PARTNER